ZODIAC BIG 3 unisex crewneck, customizable
Prix habituel
$54.99 CAD
Prix soldé
$59.95 CAD
Price per unit
per
Sale
Out of stock
Size Charter
ZODIAC BIG 3 unisex crewneck, customizable
The Big 3 in astrology generally refers to the three main elements of your natal chart: the Sun sign (your astrological sign), the Moon sign (representing your emotions and instincts) and the Ascendant sign (which influences your appearance and first impressions). Together, these elements give an overview of your astrological personality.
You can personalize your crewneck with the 3 signs that make up YOUR astrological personality (and wear it proudly)!
Don't know your BIG 3? No problem, our favorite astrologer
Mademoiselle Lili
has an easy tool to find it,
right here!
Once you've found your BIG 3, enter it IN THE FOLLOWING ORDER: YOUR SUN, YOUR MOON AND YOUR ASCENDANT in the comments section when you make your purchase. You'll receive your personalized crewneck a few days later!
Casual unisex cut 
Available in 7 unisex sizes
Each illustration was hand drawn in Montreal
Printing made in our workshop with love
DTF Printing
Print on demand: allow 3-5 business days for printing before shipping. 
Materials

50% Cotton / 50% Polyester
Regular fit
Maintenance

Wash in cold water (preferably inside out).
Avoid the dryer.
Delivery and returns

Free shipping on orders over $99.

Delay: between 3 and 10 days in Canada.

Exchange and refund: maximum 14 days after receipt of the product
Share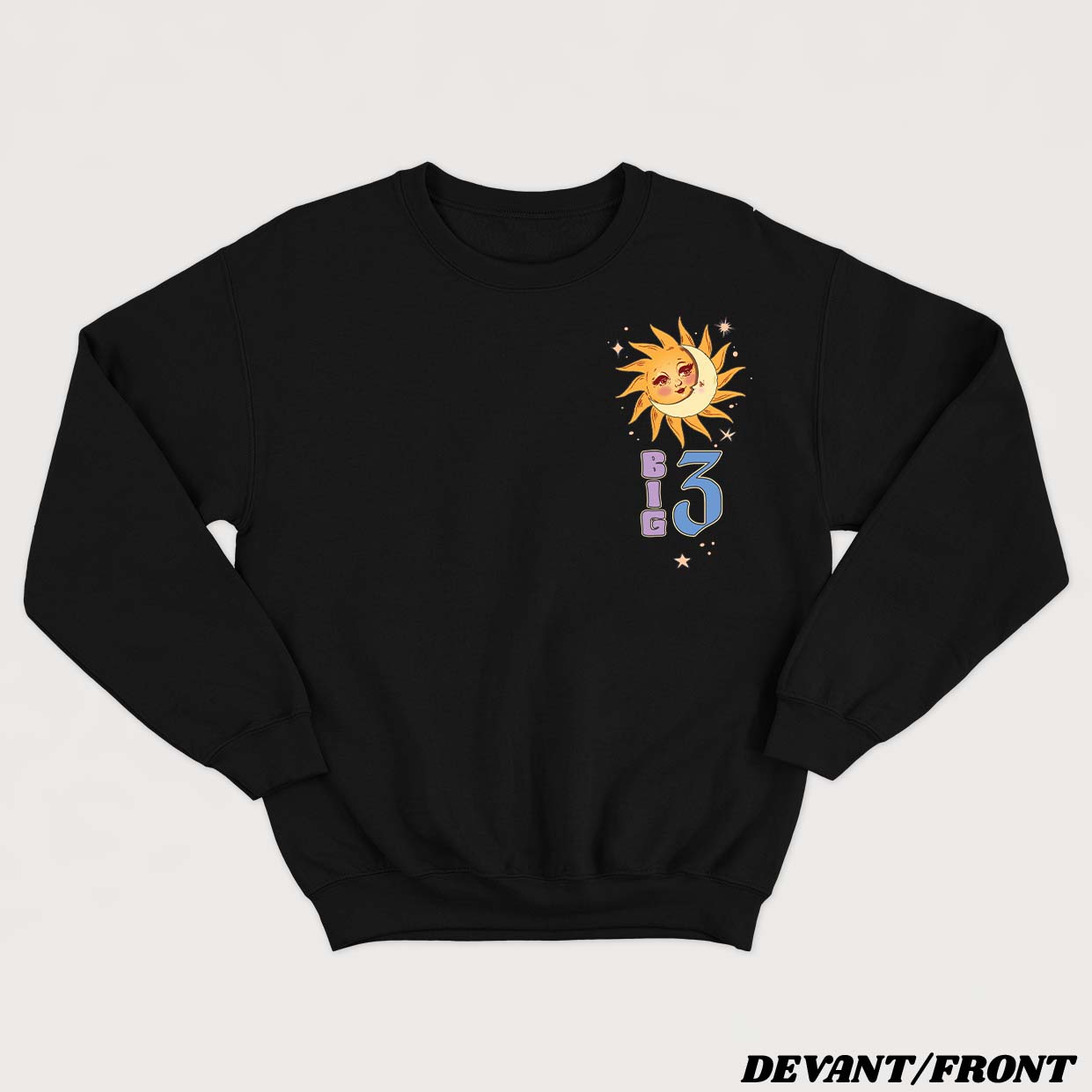 Size Chart - Crewneck and demiz-zip - unisex casual fit
Unisex Crewneck + Half Zip Sweatshirt - unisex casual fit
Small

Medium

Large

Xlarge

2Xlarge

3Xlarge

Width

B

20"
22"
24"
26"
28"
30"

Length

A

26"
27"
28"
29"
30"
31"

Handle C

33"
34"
35"
36"
37"
38"
Advice
This is a casual model.
Women: we recommend your regular size for a relaxed look, or one size down for a fitted look.
Men: we recommend your regular size. 
In love with Tamelo!
I'm definitely a Tamelo girl! I have as many T-shirts as crewnecks, including long-sleeved T-shirts. The Big 3 has just been added to my collection and, as usual, I wasn't disappointed! My biggest problem is that I have to renew my 1st purchases, which I've worn too much but still love, whereas there are always new favorites!
#achatlocal
ZODIAC BIG 3 unisex crewneck, customizable
ZODIAC BIG 3 unisex crewneck, customizable
Really mega confo, perfect size and super beautiful 😍 ideal for the coming autumn season